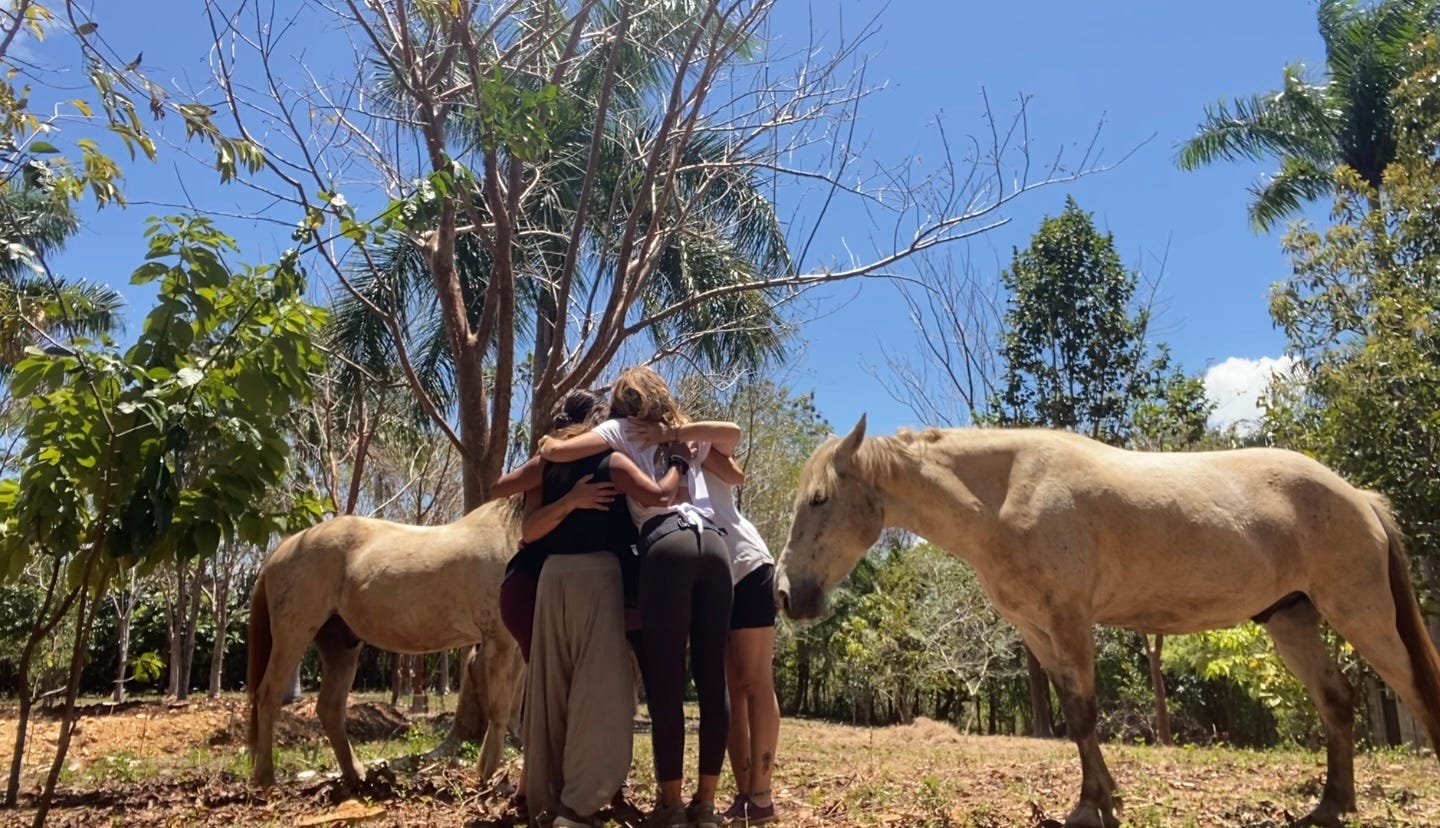 This experience is not about riding a horse ...
I offer EFC (Equine Facilitated Coaching) and Horse Assisted Wellbeing and Healing embedded into a holistic experience that always has the wellbeing of the horse as well as your own safety as the top priorities.

My focus lays on the relationship one can build with a horse that is based on trust, understanding and real, authentic connection.


I use a combination of meditation, breathing, conscious movement, coaching, theoretical discussion, creative activities and, of course, reflective and active experiences with the horses.

Guided meditative exercises with horses designed to deepen awareness and connection to self and others. Learn about yourself through real-time feedback from the horses.

You will spend your time during the session (which takes about 2 hours) in the presence of horses and simply be or interact with them on the ground, either in the fields, paddock spaces or walking out in pure nature without any fencing (the setting depends on different factors).

No riding is involved, no previous experience with horses is required.

This experience is possible at the moment in the area of Cabarete, the North Coast of the Dominican Republic. We are focusing on working with places that have rescued horses. A part of the revenue of the sessions is used to support the horses with their monthly needs of food, health care, hooves, teeth. A horse's wellbeing is costy...
Your Coach
Kathi is a Holistic Coach and Certified Life Coach, Yoga Teacher, Meditation- and Breathwork Instructor. Over the course of 3 years she was guiding people on their journey of self development through this holistic experience together with her horses.

Read her story at the end of this page ...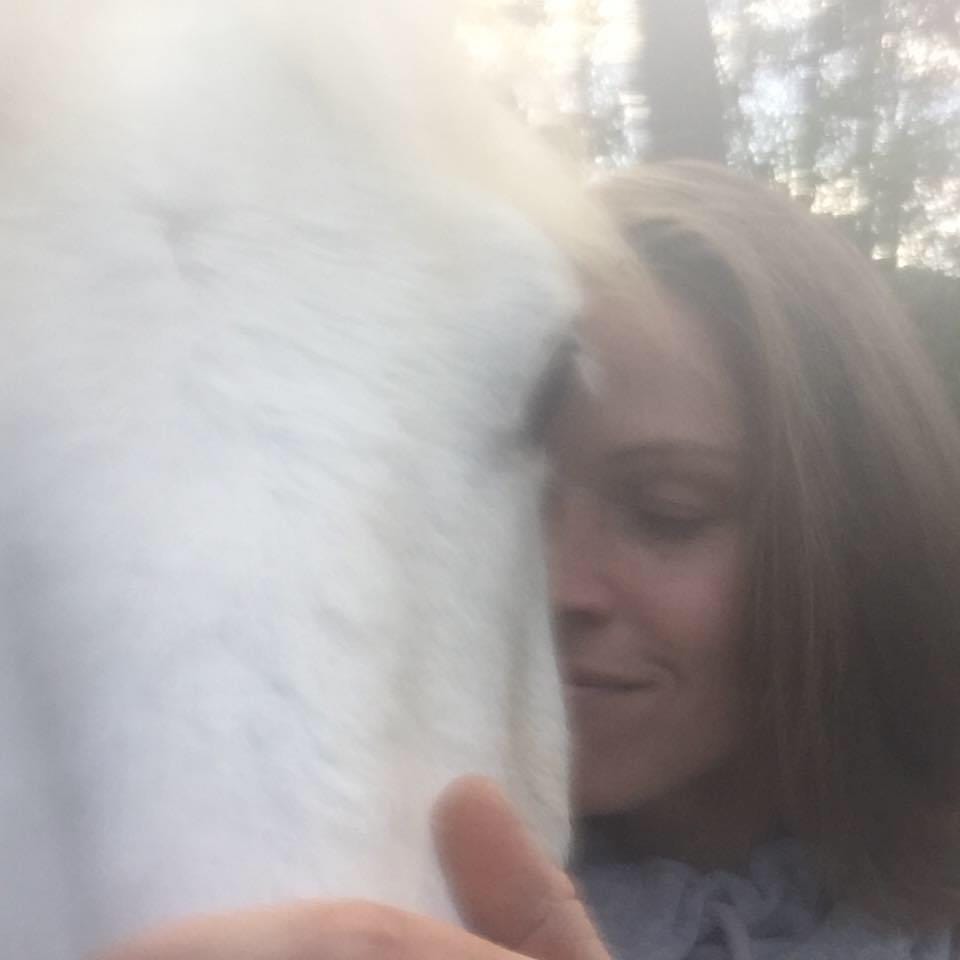 Some benefits of Horse Facilitated Coaching / Wellbeing are:
Tune into yourself and honor your true feelings
Developing and deepening body and breath awareness
Overcome anxiety and access inner peace and calm
Set clear, consistent, and healthy boundaries
Communicate clearly and effectively
Build confidence and self esteem
Develop focus and clarity
Create honest and authentic relationships to yourself, others, and your community
Reconnect to your sense of purpose and direction
Have fun with those magical 500 kg creatures - on the same level
Experience being in the electromagnetic field of the heart of the horse
Spending time in the presence of horses can help us on our own journey of self discovery. We as humans can learn so much from horses, time we spend with them in a mindful and conscious way can often lead to aha-moments in ourselves and bring many new insights. Like that also theoretical knowledge can transform into real understanding and life wisdom.
During those sessions you spend time in the presence of horses and interact with them on the ground, either in the fields or paddock spaces. No riding is involved and NO previous experience of horses is required.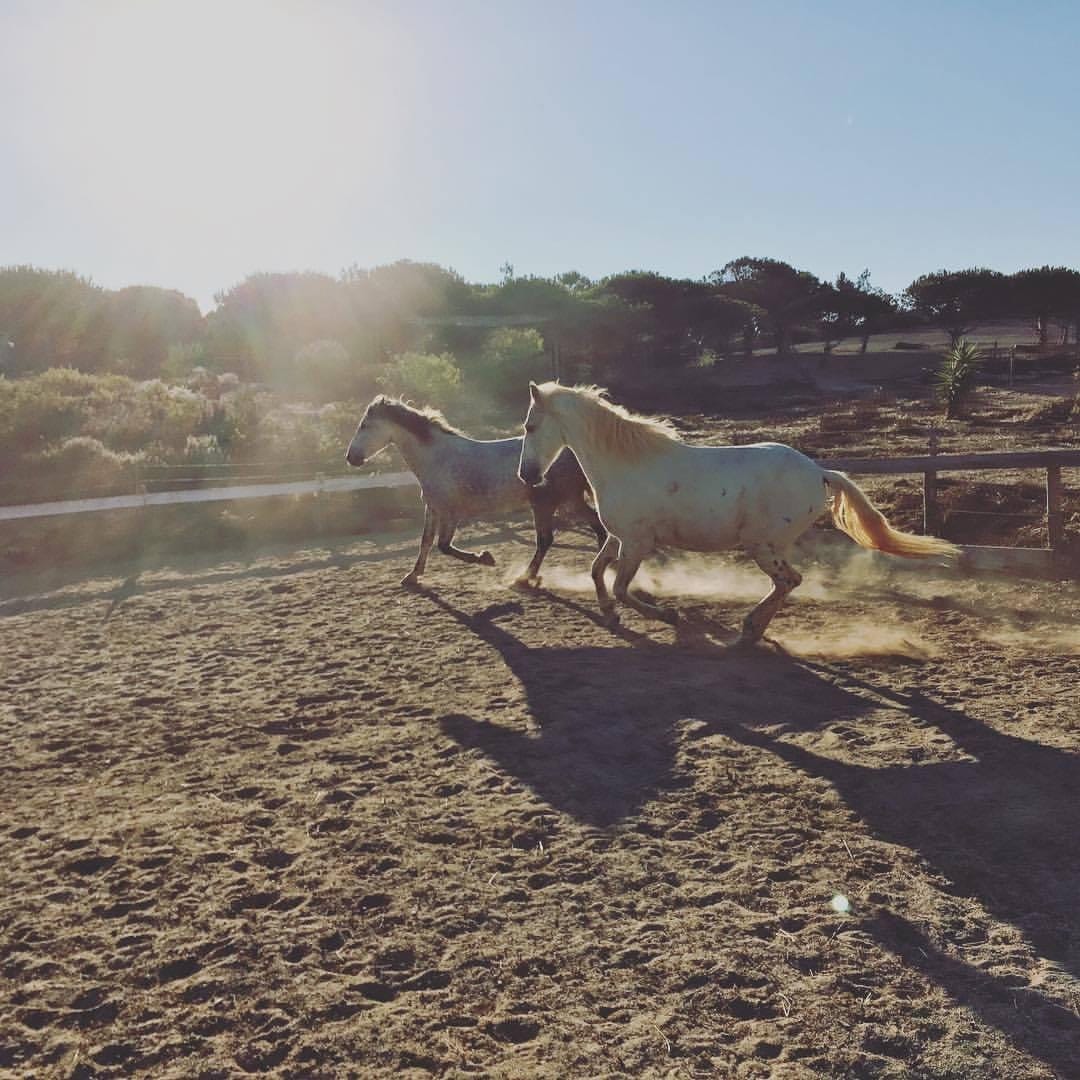 Book your Session
You are welcome to book an initial free consultation so that we can get to know each other and establish if it can be an effective coaching relationship.


Please click the button below to contact me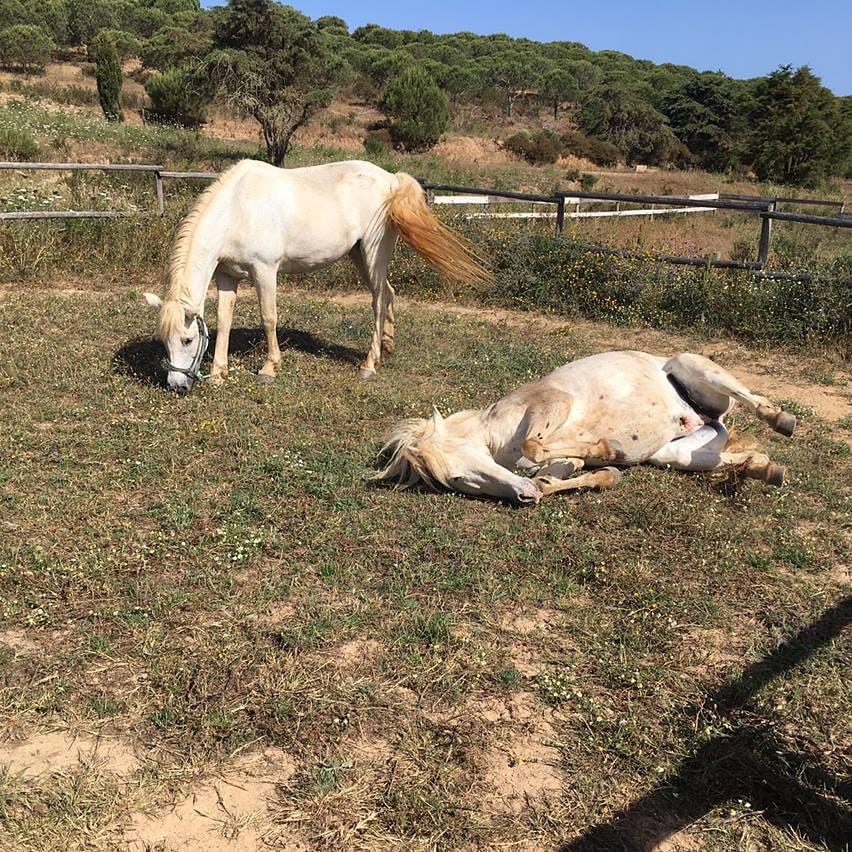 Feedback from beautiful guests I was guiding .... with my horses in Portugal (2017-19)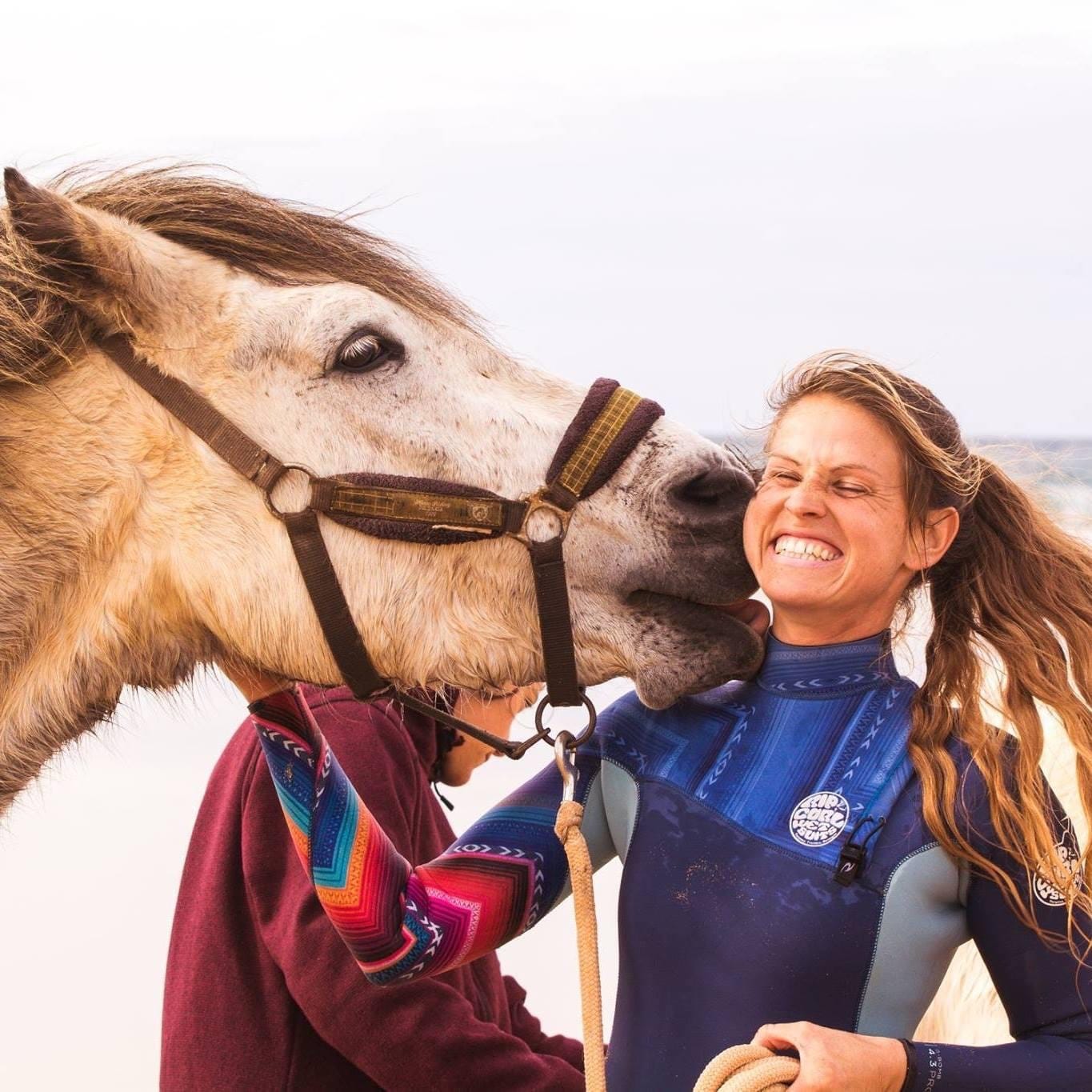 Why not riding?
I (Kathi) had my own journey over the years. When I learned horseback riding as a child I learned the "normal", the english way - with a bit and making it clear to the horse "who is the boss". The horse living in an enclosed stable most of his or her days, being taken out just to be bossed around from one riding student to the next. This approach at some point didn't resonate with my little heart anymore. I stopped riding for several reasons and didn't reconnect to horses anymore until around my 30th birthday when I lived in Spain. This was a time when I went through a traumatic period in my life. I reached out to a stable that had a more natural and holistic approach to horses, they gave lessons to children with bitless bridles (that simply means that there are no metal parts in the horses mouth to control the horse that way) and did a lot of "groundwork" - something I had never heard of before, learning how to connect to a horse on the ground before even getting up onto his or her back. Lucky me I was able to have some lessons in exchange for helping with feeding and cleaning - something I was longing for at this time. I needed the smell of horses again in my nose - when you know you know ;)

So it came that I found my soul horse in a nearby stable, a rescue horse that "needed" someone to be with him and connect with him. We both helped each other through a hard time and it was beautiful to see that over some months he had build up the trust in me. We were able to go on walks together out of the stable, I was even able to ride him (bitless and with a neck ring). He lived with another horse in a paddock so they could move around and give each other company.

Life had more plans and so couple of months later we left Spain and we moved to Portugal. That is where a new approach to horses found its way to me. I had many interesting conversations with the very knowledgable man who owned the Holistic Horse center (where I brought Celeano to live) before me. We often talked about why he stopped offering Horseback Riding and even stopped himself to ride his horses. The Center used to be called Holistic Riding Center. He shared with me that because he found out that there were scientific studies existing that showed that the first signs of compromised blood flow was noticed on the horses back after only 10-15 minutes (!!!) of riding. This is regardless of riders weight, type of saddle, no saddle, style of riding. After that short amount of time the horse feels discomfort and the longer we sit on there (and the heavier we are) the more discomfort / pain will manifest. Now the question is: If we know this, can we be very conscious with this time that we spend on the horses back? And maybe can we consider if we really HAVE to be on the back in the first place? Is there maybe other things we can do with the horse that brings the same or even more joy? Or what about "just" BEING with the horse and them just be horses? Many questions... I invite you to find your personal answers to them ...
In any case this is how Holistic Riding Center became Holistic Being with Horses. It's about being, without doing ... and I was lucky enough to carry this work forward.

I highly recommend the documentary The Path of The Horse on youtube to anyone remotely interested in horses. Watch it with an open heart and mind and if you feel like it let me now how you liked it.

Don't get me wrong I'm not saying riding is always "wrong" and should never be practiced but I truly feel it should be seen more as a privilege rather than a right we have as humans to be in that sacred space of a horse. Becoming more aware and knowledgeable about the language horses use to communicate and making sure if they show signs of pain to let them be and get off their back.

In this context check this documentary as well:
Taming Wild - A Girl and a Mustang by Elsa Sinclair (Freedom based Training)

For me riding is really not a priority anymore. I very much enjoy the connection I am building on the ground. The most beautiful thing for me is a horse that has not been trusting humans and then noticing the signs he or she is starting to trust me. Best feeling on earth!

Ready to find out more? :)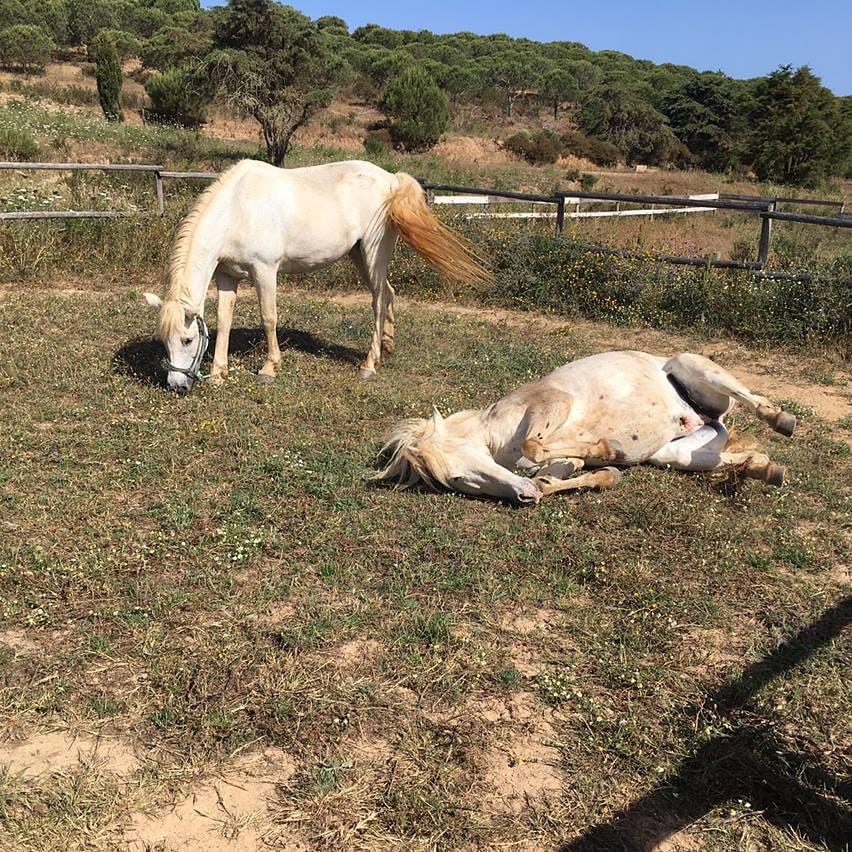 Feedback from beautiful guests I was guiding .... In Cabarete and surroundings (2023)